Auto Mall's New Color LED Video Freeway Sign
A newly refurbished Moreno Valley Auto Mall pylon freeway sign with full color video display was completed on July 18, 2011.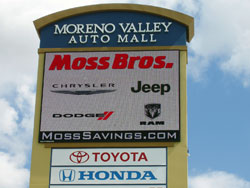 This is one of the City's Economic Redevelopment Agency's projects. The Public Works Department, Capital Projects Division was tasked with overseeing the design, specifications, and construction of the newly redesign pylon freeway sign. The old sign was a one color (yellow) display screen (29'X16') with one (24'X10') panel for all the dealership names. The new sign has a 29' wide by 21' high LED energy efficient multi-color display screen. This is a 24% increase in viewing screen with eight large individual dealership name panels. This new sign is 95 feet tall, 10' taller than the old sign, allowing for more visibility along the freeway.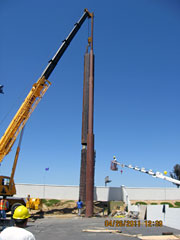 Thoughtful cost saving creative engineering design went into the construction of this freeway sign. Most of the old structural elements of old sign were used to minimize throw-away. Only one additional structural pole was added to this larger and taller sign. Special metal braced cages were used to provide seismic, wind and dead load structural strength. The other major challenge for a sign of this design and size is the cooling of the electrical components. Additional ventilation vents were placed at strategic locations to utilize the natural air convection system to keep the interior cooler, preventing the overheating that would damage the sign's electrical systems.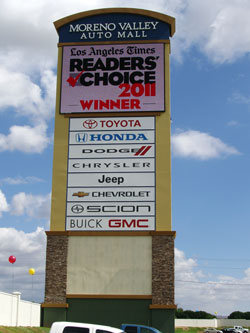 The new sign has received very positive reviews from the potential auto buyers and dealers as it has definitely enhanced the awareness of the Moreno Valley Auto Mall. Increased awareness will help bring customers into the Auto Mall area which will help stimulate sales and future job growth. The new sign is part of the City's new marketing campaign message: Invest in your Community, "SHOP MOVAL." This is an investment in educating residents to the importance of buying their next vehicle locally and supporting fellow City residents by stimulating job growth.